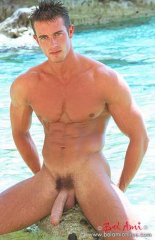 When you look at Max Orloff and his career with Bel Ami, it's pretty clear that he's nothing short of a gay porn superstar. Many of the models George Duroy has brought to Bel Ami are exclusive to that company, as is Bel Ami and George Duroy's preference. Max Orloff, on the other hand, actively makes movies for companies other than Bel Ami. Regardless of this, George Duroy continues to work with him and have him appear in Bel Ami films.

Max's physique is astounding, with a powerful chest and arms. And not to sound crude... but his cock is huge!

His face is nothing short of sculpted Adonis perfection. He's such a stud! The boyish innocence of many a Bel Ami model is definitely one of their trademarks, but the total studly hotness of Max Orloff fits in to the Bel Ami roster perfectly!
Max Orloff has appeared in other gay dvds under the names Jan Dvorak and Pavel Novotny. (see below)
eg see Prague Rising (as Pavel Novotny)